by Emily Roberts ~ September 7th, 2010. Filed under:
Iron Avatarist
,
Needlework
,
Student Posts
.
The good news is, I finished the D20.
The bad news is, it's slightly more fail than its predecessor.
The embroidery was fine, if I do say so myself, though you can tell that some of the numbers were in a darker gold thread.
I ironed it onto the material, and put some blue scrap cloth on the back to keep it from burning.
Chopping it up was pretty heartbreaking.
Gluing it together resulted in a very depressing sight.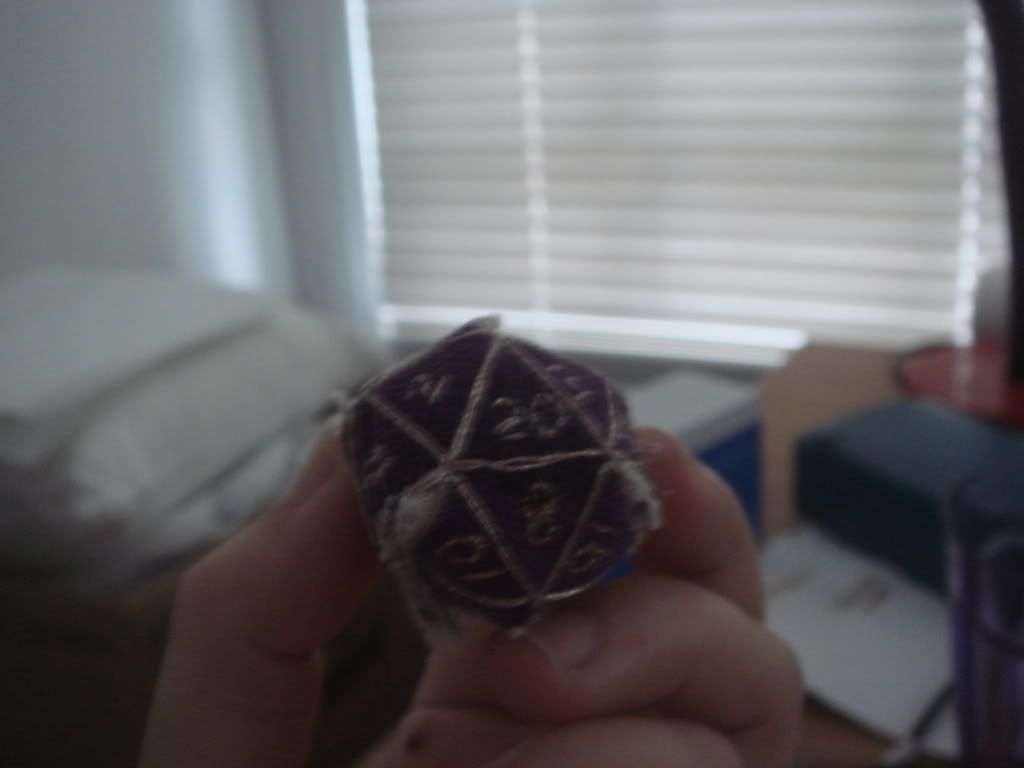 The problem is, as I should have foreseen, the material I used to make the fabric stiff enough to fold. It doesn't hide itself very well, and it doesn't fold very well.
This wouldn't be so frustrating if I hadn't dawdled for a year. Oh well. Es kommt wie es kommt, lesson learned.
The better news is, I can work on other things now!
I was looking around a 10,000 Villages store in Richmond and came across some coin purses from Vietnam or someplace. I looked at them and realized that they were pretty much just squares of fabric sewn together with a zipper on the top, and I thought "These would look neat with some custom embroidery!"
I think I'll make one. I'll use black aida and that glow-in-the-dark thread. I'd say "it won't take me long", but look at how long the above disaster took me.
The theme for Iron Avatarist this month is "magic." On a forum full of D&D nerds and more talented artists who have made countless magician avatars, I've got no chance. I'll just wait for next month.